We sat down with Isidro Cortes Ciriano to discuss his involvement with the upcoming EMBL-EBI Cancer genomics course, and find out what training means to him. 
Cancer genomics | 20 – 24 June 2022 | Hinxton, UK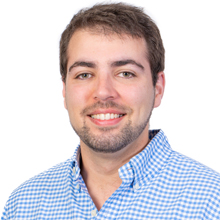 Hi Isidro! Tell us a bit about yourself for those that don't know you.
I joined EMBL-EBI in 2019 as a research group leader. My team focuses on the development of computational tools to understand the molecular alterations underpinning cancer, with a focus on the analysis of somatic mutations using sequencing data.
I am also one of the scientific organisers of this year's EMBL-EBI Cancer genomics training course.
What is your research focus, and how long have you worked in your scientific field?
I obtained my PhD at the Pasteur Institute in 2015 before completing postdoctoral training at Harvard Medical School, under the supervision of Prof. Peter Park, and at the University of Cambridge, under the supervision of Prof. Andreas Bender.  My expertise includes biology, genomics and statistical modelling.
Tell us more about the Cancer genomics course you're involved in. What advice would you give to anyone thinking of applying?
Do it! The course provides an exciting opportunity to learn about the latest approaches for cancer genome analysis, with relevance for both research and clinical applications.
That sounds great! How has training influenced or assisted your own career do you think?
Training at the MSc/PhD level is fundamental to cement basic knowledge in the field. This includes both reading literature and hands-on training to understand the particularities and limitations of the algorithms we use, all of which helps acquire the necessary expertise to drive research projects in a rigorous manner.
Thanks Isidro, we can't wait to hear you talk at the course this June.
Applications for Cancer genomics are now open until 11 March 2022.
View the full programme and apply now.